Backyard Bible Club (Week 3) - A Community of Faith and Learning
Nov 6, 2022
Events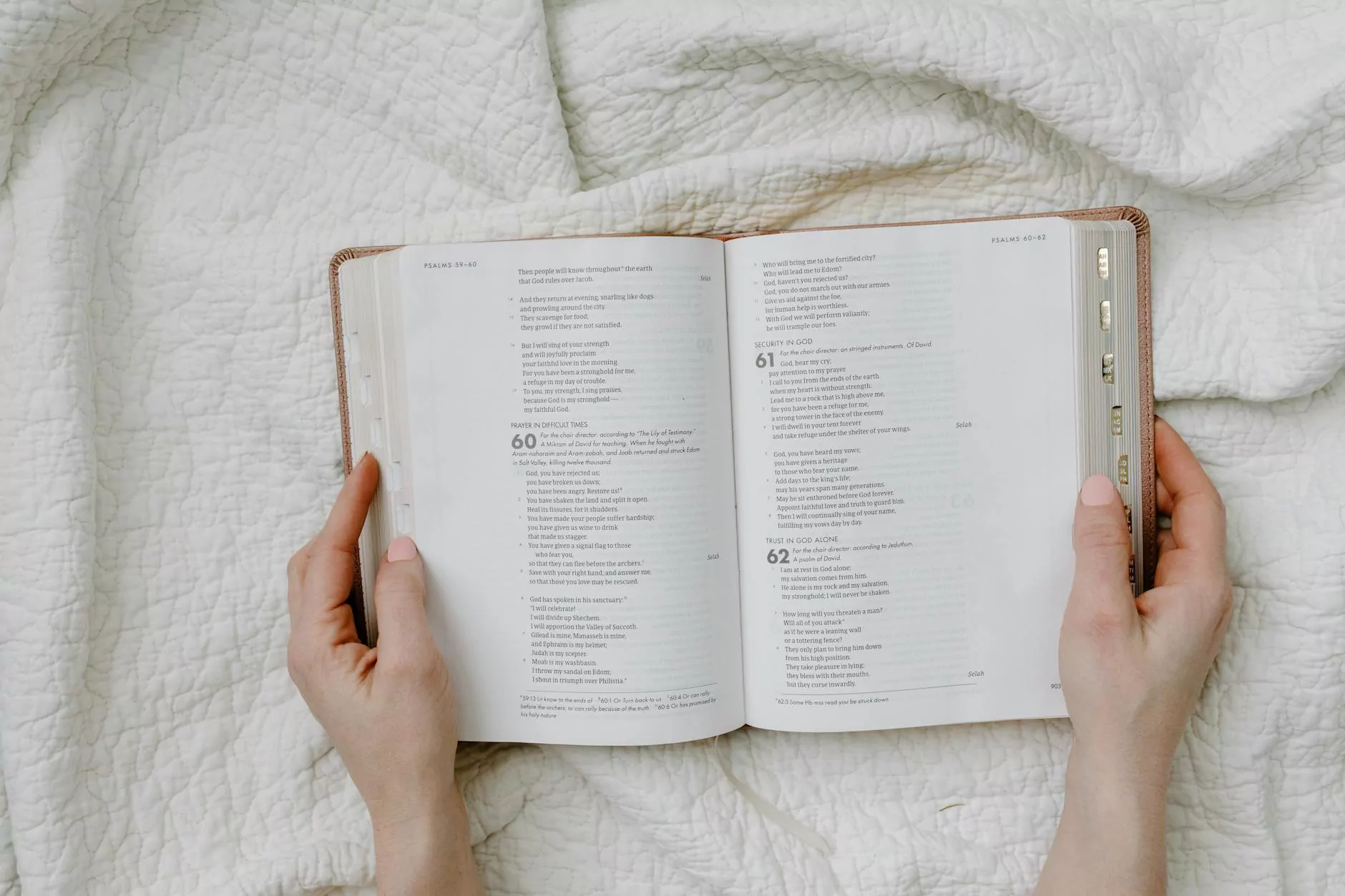 Introduction - Catholic Engaged Encounter
Welcome to the Backyard Bible Club (Week 3) hosted by Catholic Engaged Encounter! We are thrilled to invite you to become a part of this vibrant community of individuals who share a common passion for faith and spiritual growth. Our club is designed to provide you with an enriching experience where you can engage in interactive activities, explore the teachings of the Bible, and strengthen your spiritual beliefs.
Enhancing Faith Through Bible Studies
At the Backyard Bible Club (Week 3), we prioritize the study of the Holy Scriptures. Our dedicated team of knowledgeable facilitators will guide you through a comprehensive study of various biblical texts. We believe that understanding the teachings of the Bible is essential for personal growth and strengthening the foundation of our faith.
Exploring Biblical Teachings
During the club sessions, we delve into profound biblical teachings to gain deeper insights into God's word. We focus on passages that highlight love, forgiveness, compassion, and the core principles of Christianity. By exploring these teachings, we aim to inspire and empower individuals to live a Christ-centered life.
Interactive Discussions and Reflections
Our club encourages active participation and engagement. We organize interactive discussions where members can share their thoughts and perspectives on the biblical passages discussed. These conversations foster a sense of community and provide opportunities for personal reflection and growth. Together, we build a supportive network where everyone feels comfortable expressing their views and exploring the depths of their faith.
Connecting with Like-Minded Individuals
Joining the Backyard Bible Club (Week 3) allows you to connect with like-minded individuals who share similar values and beliefs. Through our faith-centered activities and discussions, friendships are formed, and a strong sense of community is cultivated. We believe that finding a supportive network within your faith journey is vital for personal development and spiritual growth.
Fostering Relationships
Our club facilitates an environment where individuals can interact, build relationships, and offer support to one another. By connecting with others who share similar beliefs, you can find encouragement, guidance, and collective wisdom. Together, we grow as a community of faith, supporting each other through life's challenges and celebrating moments of joy.
Networking Opportunities
The Backyard Bible Club (Week 3) also presents various networking opportunities to expand your social and spiritual circles. Our events and gatherings provide a relaxed setting for individuals to meet and engage with others who are passionate about their faith. These connections often go beyond the club activities, allowing members to discover new friendships and strengthen their ties within the broader faith community.
Engage and Grow
At Catholic Engaged Encounter, our aim is to create an environment that nurtures your spiritual growth and strengthens your faith. The Backyard Bible Club (Week 3) is a testament to our commitment to fostering a community where individuals can engage with their faith on a deeper level, develop meaningful relationships, and grow in their personal, spiritual journeys.
Embrace the Journey
If you're ready to embark on an incredible journey of faith exploration and personal growth, we invite you to join the Backyard Bible Club (Week 3). It's time to embrace the enriching experiences, connect with like-minded individuals, and discover the profound teachings of the Bible. Join us, and let this journey become a transformative chapter of your life.
How to Join
Joining the Backyard Bible Club (Week 3) is simple. Visit our website at eeweekend.org and navigate to our calendar section. Find the upcoming club sessions, and click on the registration link to secure your spot. Be prepared for an unforgettable experience that will empower your faith and connect you with a supportive community.
Experience the Power of Faith
Don't miss out on the incredible opportunity to engage with your faith, deepen your understanding of the Bible, and connect with a community that shares your spiritual journey. Join the Backyard Bible Club (Week 3) today and experience the transformative power of faith in your life.
Closing Thoughts
The Backyard Bible Club (Week 3) organized by Catholic Engaged Encounter is a place where faith, community, and personal growth come together. Through Bible studies, interactive discussions, and a nurturing network, we believe in creating an environment that encourages individuals to explore the depths of their faith, connect with like-minded individuals, and experience the transformative power of God's word.
Join us at the Backyard Bible Club (Week 3) and embark on a unique journey of faith that will leave a lasting impact on your spiritual life. Register today and open the doors to a community of faith and learning that is waiting to support you on your path to spiritual enlightenment.